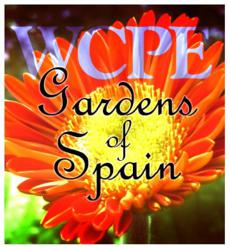 Wake Forest, NC (PRWEB) March 07, 2012
WCPEs Assistant Music Director Kenneth Bradshaw announces In the Gardens of Spain Weekend, March 10-11, 2012. The program will feature great composers as well as virtuoso performances.
From the Atlantic Ocean to the Straits of Gibraltar and the Mediterranean Sea, says Bradshaw, The landscape of Spain presents us with breathtaking beauty.
A partial listing includes:

10 SAT

8:00 a.m. Rodrigo: Fantasia for a Gentleman

9:00 a.m. Granados: Allegro de Concierto

10:00 a.m. Alb