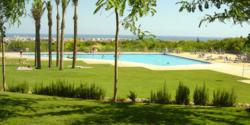 Bristol (PRWEB UK) 29 February 2012
Bristol based campsite holiday specialist, EuroParcs has commented on possible capacity problems for this summer in Spain.
Recently returning from visiting campsites in Spain Rod Jones, EuroParcs Director is quoted as saying booking levels are ahead of last year for ourselves and the campsites we work with have confirmed good booking levels in their own accommodation Jones continued It appears that overseas agents bringing predominantly French customers to Spain has dramatically increased demand for the period coinciding with UK school summer holiday period..this will cause headaches for families booking last minute.
Several factors are having an effect on capacity. In the UK market there is consolidation of the operators and the largest operators such as Holidaybreak continuing to reduce capacity. Additional pressure is being applied by the state of the Spanish economy substantially curbing investment in additional emplacements and mobile homes. Now with Travolution commentating this week on the increasing trend of late booking for the holiday market a cautionary warning may be needed for holiday makers thinking of booking their holiday last minute.
About EuroParcs

For 24 years EuroParcs have been providing quality campsite holidays in mobile homes at prices as much as 40% less expensive than competitors at the same campsites. EuroParcs 3 flagship campsites are La Garangeoire (Vendee), Le Ruisseau (Biarritz) Vilanova Park (Barcelona) and customers have the chance of booking accommodation only or ferry inclusive packages. http://www.europarcs.com